Bonaire is beautiful, and it's on everyone's travel bucket list. But for many people, the only way that this travel dream can come true, is if they can find the best Bonaire vacation deals on the internet. Sometimes it's all about timing, and at other times it's all about knowing where to look. The truth is that there is always a deal, but the challenge is often where to find them and then ensuring that the deal aligns with your travel schedule.
Because you know that you are going to be visiting Bonaire, you should subscribe to Tourism Bonaire, the official tourism website of Bonaire. This should be your primary research point for travel because they will have up to date information about hotels and resorts, flights into the island, activities and attractions, health and safety information and must-know information about Bonaire.
If you have time to spare, there are a few websites that you can also subscribe to. For travel to anywhere in the world, Nomadic Matt recommends The Flight Deal and Scott's Cheap Flights (which find cheap flights from the USA); Secret Flying (cheap flights from Europe); and Holiday Pirates (cheap flights from anywhere in the world.) I have a friend who swears by Secret Flying and recommends it to everyone he talks to.
How to Find Vacation Deals in Bonaire
In addition to Tourism Bonaire and the other sites mentioned, you will have to stretch your fingers to get as much information as possible. When travelling to Bonaire and any other island in the Caribbean, you will be looking at flight prices, accommodation rates and activities. Flights to the island originate in North America, Europe, and the Caribbean. There are connections available from South America and Asia. Accommodation options vary and the choice of where to stay in Bonaire will be influenced by your budget. And, deciding what you want to do will be influenced by your personal tastes and the things that you love.
Travel Booking Websites
The top booking sites are always sharing travel deals with big savings on Caribbean vacations. These packages often include flights and hotel accommodation and some also include car rental. The best booking sites for trips to the Caribbean, will have guides to your preferred destination. For example, on the TripAdvisor website, there is a useful travel page with lists of Bonaire hotels, island photos, a map and a Bonaire travel guide.
Bonaire Hotel Websites
There are many accommodations in Bonaire. Visitors to the island have their choice of hotels and resorts, villas, apartments, boutique hotels and bed and breakfasts. These properties are located all over the island, and they cater to various price points. There are over 100 hotels and resorts in Bonaire to choose from. For a list of the accommodation in Bonaire, visit the Where to Stay page on Tourism Bonaire.
Bonaire Travel Blogs
Home grown travel blogs in Bonaire provide useful information about the travelling to Bonaire. These blogs often give little known tips, insider secrets and the latest news about the island. Sometimes, these sites share Bonaire vacation deals, which may include savings on activities; discounted tickets to events; and special deals on attractions. They may also share special offers from restaurants and local businesses.
Sunwise Bonaire
Sunwise Bonaire is vacation property rental company that manages and rents holiday homes in Bonaire on behalf of their owners. They also provide commercial, marketing, legal, architectural and financial services. The company also runs a Bonaire travel blog that provides up to date information on the island. Find out about the latest airline schedules, discounts on renting holiday homes in Bonaire and airline deals.
Info Bonaire
Info Bonaire is a detailed Bonaire information site that is managed and maintained on the island. It shares the latest Bonaire news and events; current weather; Bonaire restaurants and dining; where to stay on the island as well as a complete Bonaire accommodations guide with pricing indicators; activities and attractions; and tips on how to get to Bonaire and general travel information.
Bonaire Pros
Bonaire Pros is a Bonaire vacation and reservation service, that searches for the best vacation options at the best prices for their customers. The blog shares the latest updates about what's happening on the island; the various adventures available; Bonaire island life; scuba diving and honest reviews. On the Specials page, you can search for your preferred hotel, the month that you're travelling, and the activity that you're most interested in.
I Love Bonaire
The Bonaire Hotel and Tourism (BONHATA) operates the I Love Bonaire brand and blog. The aim of this site, which is aligned with BONHATA's mission is to "promote, support and empower" the members of the organisation. On the site you will find information about getting to Bonaire; where to stay; what to do on the island; and where to dine. Highlights of the site are special deals and packages and money-saving offers.
Bonaire Vacation Deals
If you're looking for accommodation in Bonaire with exclusive room rates with added value, take a look at the offers below. Hotels usually update their offers from time to time. Before booking, always compare prices; double check your dates; research the type of room and available amenities; read the terms and conditions of the special offer(s); and review the cancellation policies.
Eden Beach Resort
Eden Beach Resort Bonaire is a luxurious dive resort with a variety of accommodations. Guests can choose from a standard room; a superior room; a studio; a king studio or a two-bedroom apartment. Take advantage of their special rates on longer stays!
Divi Flamingo Beach Resort & Casino
Divi Flamingo Beach Resort & Casino presents an authentic Bonaire experience that's supported by the island's relaxing atmosphere. Stay in the loop and sign up for special offers and the latest happenings at the resort. Book now and save on room only packages and all-inclusive packages.
The Bonarian
The Bonarian is located on a gorgeous private beach that affords guests to go windsurfing, snorkelling, diving and swimming. Enjoy the master oceanfront, private oceanfront, deluxe oceanfront, deluxe oceanview and deluxe gardenview rooms. Don't let these sunny deals set into the horizon.
Djambo Bonaire
Djambo Bonaire is an apartment hotel located south of the centre of Kralendijk. Guests can choose from one or two bedroom fully furnished apartments, each of which come with free WIFI. Search now for deals on one bedroom and two-bedroom apartments.
Let us know if you used any of these deals on vacation packages for your next trip to Bonaire. If you're interested, you have to act quickly because some of these deals will expire soon.
Image Credit: Tourism Corporation Bonaire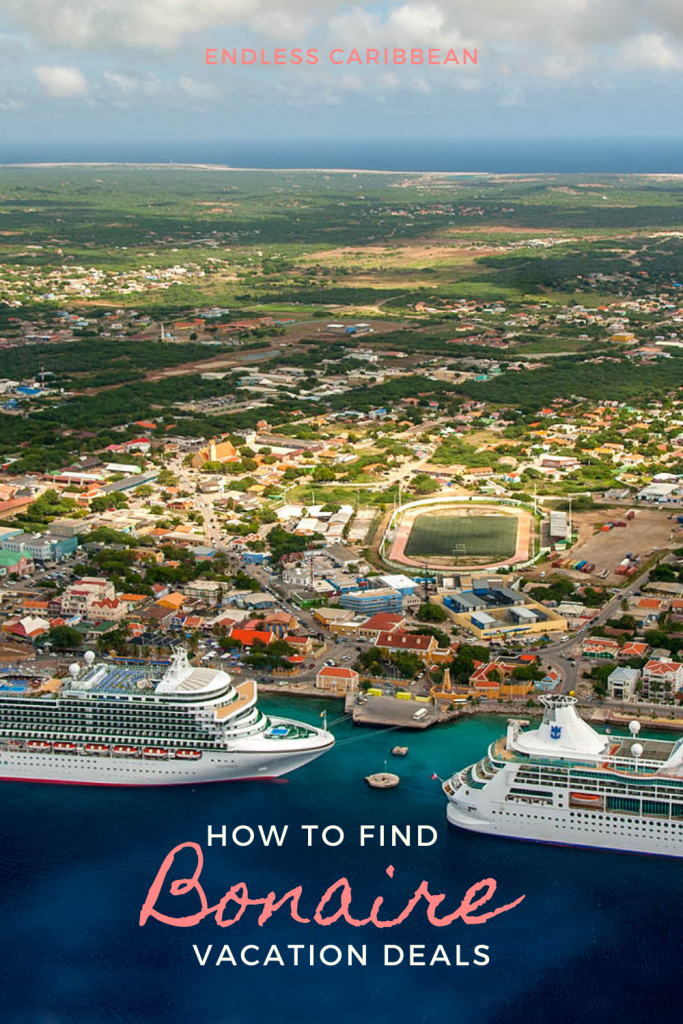 Related Posts