It's no secret that luggage (including carry-on bags) takes a beating when being transported through airports and onto aircraft. From being dragged through rain, sun, snow and hail; to being tossed like a rag doll into the cargo hold of some lucky plane bound for the Caribbean; to being emptied of contents and then packed away in a dark closet until the next trip.
In my observations, I've come across a few main trains of thought when it comes to carry-on bags and suitcases. On one hand there are those who would prefer to spend money on expensive and sturdy luggage, with the intent that the piece will last longer because it is of a higher quality. On another hand, there are those who prefer to spend as little as possible because all bags are manhandled and will sustain damage, so it does not make sense overspending. And then there are some who are right in the middle of these two approaches where price and quality juggle for attention.
I'm in the latter group, however, sometimes I do worry about whether my carry-on bag is indeed fit enough to make it through the rigors of travel. On my last few trips (all of which were on Jet Blue) it crossed my mind that maybe the cheapest bag was not the best option. On some trips, in order to save on the checked bag fee, I have stuffed my carry-on bag to the limit. Clothing, shoes, beauty minis, food, electronics, vitamins and everything in between have shared the tiny space in my carry-on bag. And as a result, my bag has been left with a few tears on the inside, pulled strings on the outside, malfunctioned handles and wobbly wheels.
How to Choose the Best Carry-on Bag
With several trips planned for the future, I've resolved that it's time to find a sturdy carry-on bag that will survive my journeys to the Caribbean and beyond. I'm not swayed by luxury brands or having coordinated luggage sets, but instead by quality pieces that will stand the test of travel to anywhere in the world. This is one of several characteristics that I will be using to determine if I should purchase a piece of carry-on luggage.
Size
Those dreaded words "your bag is too big" have haunted me for years. I once worked at an airline and I saw the fear in the eyes of travellers whose carry-on bags did not fit into the baggage sizer. Carry-on bags for domestic and international travel should be between 20 and 22 inches and should fit in the airline's baggage sizer. Unfortunately, there is no hard rule for this, because different airlines have different requirements and the airline agent ultimately has the final say.
Material
Carry-on bags usually fall into two categories – hard shell and soft shell. Hard shell carry-on bags are waterproof and can withstand harsh weather when sitting outside of the aircraft. However, they do not give much on space and you will have a hard time stuffing them full. Soft-shell carry-on bags are light-weight and can be stuffed to the max. However, they may not be waterproof and could be easily damaged during travel.
Wheels
Two wheels or four wheels, that is the question. In the past I've always had two-wheel suitcases and they've worked fine. I've never lost a wheel, but there have been instances where pieces of debris have damaged how well the wheels function. My mom bought a four-wheel carry-on spinner and she thinks that it's the best case in the world. She can twirl it in all directions, and it seems to carry the weight a lot better than the two-wheel case.
Price
I'm still on the fence about whether it makes sense to spend lots of money on a more expensive carry-on bag. If there is a guarantee that a more expensive piece will last upwards of five years with all elements in tact, then I may take it. However, if there is no correlation between price and quality, and they are two independent variables, then the cheaper option may work just as fine.
Durability
Durability is perhaps, one of the most important factors to consider when looking at sturdy carry-on bags. You want to be sure that your bag can do what you expect of it. For me, durability can be tested when a carry-on bag can carry a fair amount of weight time and time again. My mum has had her carry-on bag for two years now and it has worked well under severe pressure. This is what I expect when a bag is considered durable.
7 Sturdy Carry-On Bags to Consider
Based on my research, I've narrowed down my options to these seven sturdy carry-on bags. I'm surprised that I've included some pricier options on this list, because I'm a very frugal person who thrives on finding the best value for the right price.
The AmazonBasics Hardside Spinner is a sturdy carry-on bag that features spinner wheels and a protective hard shell. What stands out to me about this bag is its fully lined interior section with a divider and zippered pockets. This would be perfect to organise my belongings for a quick getaway when I am travelling with this case alone.
The COOLIFE Luggage Expandable is an affordable spinner suitcase with a hard shell case. I was pleasantly surprised to see that this bag came with a TSA lock. To be honest, I did not consider security as an option because if necessary, TSA will break open the bag. I also like that it's available in cool colours like blue and pink, which makes it stand out in the hoard of dark coloured luggage.
The TPRC Smart Under Seat Carry-On reminds me of the carry-on luggage pieces that airline flight crews use. It's compact (can fit under the seat, when overhead space is limited); it's made of what looks like good quality polyester; and has rolling in-line wheels. The bonus of this carry-on is the USB port that can be used to charge devices.
The Travelpro Maxlite 5 Lightweight Carry-On is a lightweight, soft-side piece that sits on four spinner wheels. It's good to know what this carry-on can expand by an additional 2 inches, which could be useful when packing everything that you own. According to the description, there is a one year Limited Lifetime Coverage which covers repair costs for one year.
The Ulgoo Travel Tote Bag is a carry all weekender duffel bag with an adjustable shoulder strap. I have a similar tote bag and it is one piece of luggage that I will never travel without. I think that this travel bag is the perfect companion to one of the other wheeled carry-on bags. This bag is perfect for a weekend getaway to the Caribbean.
The Travelers Club 20″ Chicago Expandable Spinner is a lightweight, hard shell suitcase. This carry-on is available in several vibrant colours including fuschia, teal and purple. One of the features that I like, is that this case can be expanded even though it's a hard shell. You benefit from the sturdiness of the case, and you're still able to stuff it to the max with clothes.
The Samsonite Omni Expandable Hardside is actually a two piece set of luggage. The hard shell makes these pieces sturdy and the outer material of micro-diamond bicarbonate is scratch resistant. I like that this duo (20″ and 24″) has TSA locks, and are expandable for more space. Although they are a bit pricier, these cases are covered by ten year warranties.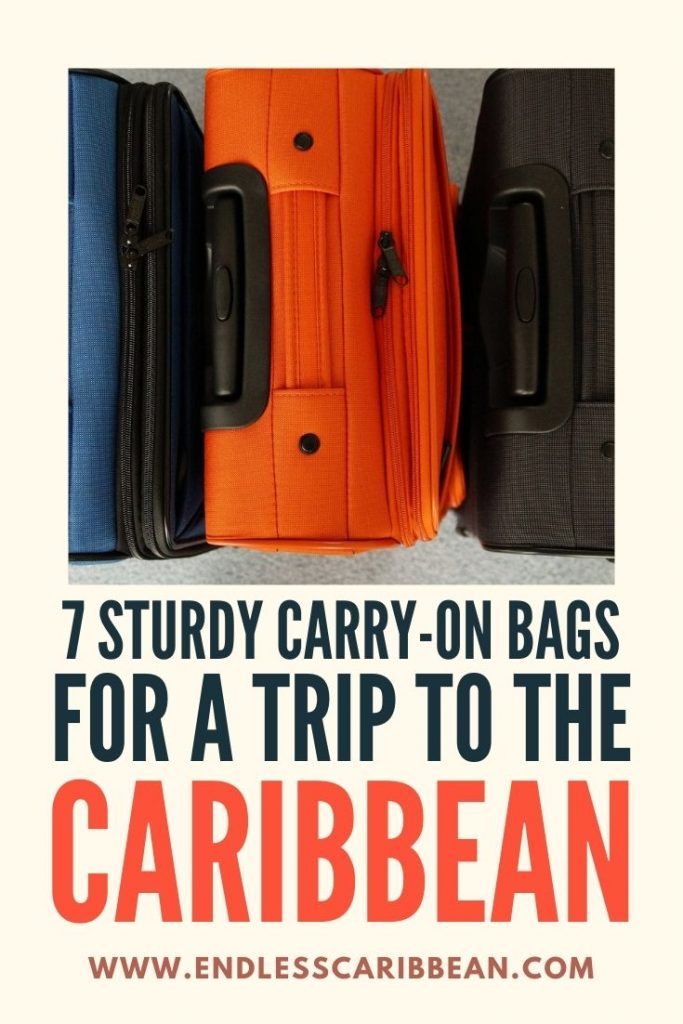 Related Posts