The Antigua and Barbuda Travel Guide is a worthy intro for travellers to the twin island state. Find helpful travel tips about these sister islands in the middle of the Leeward Islands. Also read about airlines and ocean vessels that service Antigua and Barbuda; entry and visa requirements; accommodation; things to do in Antigua and Barbuda; customs and immigration regulations; transportation and general tips about the island.
Visit Antigua and Barbuda is the official tourism portal for the islands. The Antigua Barbuda Tourism Authority manages the site which shares tips on planning your trip.
Travelling to Antigua and Barbuda
Several airlines and ocean vessels make regular scheduled stops in the islands.
Airlines That Fly to Antigua and Barbuda
Flight services to Antigua and Barbuda are available from the following airlines: American Airlines, Caribbean Airlines, United Air, Delta, Air Canada, British Airways, Virgin Atlantic, Condor, Blue Panorama, LIAT and SVG Air.
Airport
The main airport is the V.C. Bird International Airport which is located five miles from the capital St. John's. The airport features currency exchange services, car-rental companies, a post office, porter services, a cafe and a bookstore.
Ocean Vessels That Sail to Antigua and Barbuda
Visitors arriving in Antigua and Barbuda by ocean vessel, must sail into one of the following ports of entry: Heritage Quay, Nelson's Dockyard, Falmouth Harbour or into Barbuda. Heritage Quay has a duty-free shopping centre and is located on the outskirts of St. John's. There is a daily ferry service between Antigua and Barbuda.
Antigua and Barbuda Entry/Visa Requirements
Before you travel to Antigua and Barbuda, there are a few entry and visa requirements to note.
Passports
All visitors to Antigua and Barbuda must possess a valid passport with at least six months before expiration.
Visas
Nationals of specific countries require a visa to enter Anguilla. Please check Visit Antigua and Barbuda to see if your country of nationality is on the list.
Entry Conditions
Visitors must possess a return ticket; confirmation of accommodation; and evidence of their ability to support themselves whilst on the island.
Special Cases
Cruise ship visitors and in-transit passengers who are spending less than one day on either island, do not normally require a visa, provided that they have proof that they will not be staying on Antigua and Barbuda for more than one day.
Antigua and Barbuda Customs and Immigration Regulations
All visitors (including infants) to Antigua and Barbuda must clear Customs and Immigration at the ports of entry to gain legal entry to the country.
All arriving passengers must complete the necessary immigration forms and submit to the the receiving officer. Passengers are required by law to declare to Customs, items purchased outside of Antigua and Barbuda.
All departing passengers must provide a completed departure record to the officer.
Accommodation in Antigua and Barbuda
There is an impressive range of accommodation on Antigua and Barbuda. There are many hotels and resorts, cottages, villas, inns, guest houses and apartments. However, to guarantee your space at your desired location, you should make reservation before you visit the island. This is also wise, because Customs and Immigration requires this information on your arrival.
Where to Stay in Antigua and Barbuda
Here is a list of places to stay in Antigua and Barbuda:
Bellevue Heights
Cedar Grove
English Harbour Town
Five Islands Village
Jolly Harbour
Saint John's
Saint Mary
Saint Paul's
Saint Philips
Other
Transportation in Antigua and Barbuda
There are several transportation options available including local bus and train services. Other options include rental cars and taxis. To hire a car, you must have a valid driver's license from your resident country and a temporary Antigua and Barbuda driver's license. The temporary license is available through most car rental agencies.
Things to do in Antigua and Barbuda
The islands are known for their relaxing trade winds, however it has developed specialties in new areas such as: Bird Watching; Charity Tourism; Culinary Tourism; Culture/ Heritage; Cycling; Diving; Festivals; Fishing; Golf; Health; Wellness and Spa; Business (Meetings, Conferences etc.); Sailing; Soft Adventures; Sports; as well as Weddings and Honeymoons.
Weather in Antigua and Barbuda
Temperatures vary between 24 and 30 degrees Celcius during the day. The hurricane season is June 1st to November 30th. Annual rainfall averages 45 inches.
General Tips About Antigua and Barbuda
Here are a few other tips to note before you travel to Antigua and Barbuda.
Official Language: English
Government: Parliamentary democracy under constitutional monarchy
Capital City: St. John's
Area Code: 268
Size: Antigua is 108 square miles; Barbuda is 62 square miles
Population: 91,000
Location: Eastern arc of the Leeward Islands
Electricity: A combination of 110 Volts AC and 220 Volts AC.
Currency: Eastern Caribbean Dollar, but the US dollar is widely accepted.
Legal Drinking Age: 18
Closest Islands: St. Kitts, Nevis, Montserrat, Guadeloupe
Time Zone: Atlantic Standard Time. GMT -4
Driving: Left side of the road.
Dress Code: Informal / Casual, but conservative (Beach wear is not allowed in public places; nude and topless swimming and/or sunbathing are not permitted). Camouflage clothing is illegal and will be confiscated.
Beaches: All 365 beaches are public.
Add the Antigua and Barbuda Travel Guide to your bookmarks because this page receives updates periodically.
If you have found our Antigua and Barbuda Travel Guide helpful, please let us know on Facebook, Twitter or Instagram. If you know someone who is interested in visiting Antigua and Barbuda, send them a link to our Antigua and Barbuda Travel Guide and tell them about Endless Caribbean.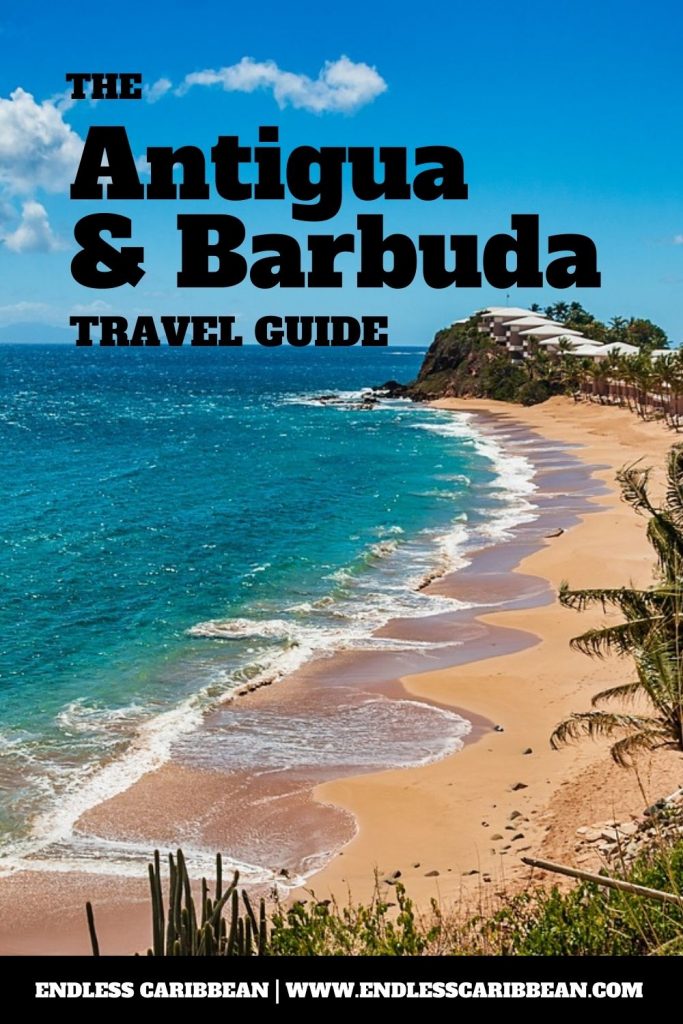 Related Posts