The Bold and Beautiful Beaches in Barbados itinerary was developed with the assistance of a tourism student of the University of the West Indies' St. Augustine campus, as part of the Endless Caribbean internship programme. 
The Caribbean all-inclusive resort model provides you with the freedom and ability to experience the best of both worlds. There is a sad misconception that when you book an all-inclusive resort, you must stay at the hotel all day, every day in order to get the best value for money. My view of the all-inclusive resort flips this notion upside down. On one hand, you have all the resort's amenities at your fingertips and on the other hand, you are you are free to explore islands in Caribbean, including Barbados, like a local.
About Barbados
Barbados is a small island in the eastern Caribbean that gained independence from Britain in 1966. It is the most easterly island in the island chain, and unlike many of its Caribbean neighbours, is a coral and limestone island. The name Barbados is believed to have been derived from the Bearded Fig trees (ficus citrifolia), which were once abundant on the island. Although the island is a mere 166 square miles, it's one of the most popular islands in the Caribbean. This is partially due to its accessibility via airlines in Europe, North America and South America and its stunning white sand beaches.
Three nights in Barbados at an all-inclusive resort is more than enough time to explore the island's most beautiful beaches. There are over 80 beaches on the island, each with endearing attributes that make them favourites for locals and visitors. Some beaches, like those on the southern and western coasts are ideal for swimming and water sports activities. Other beaches, like those on the northern and eastern coasts, are best suited for picnicking and relaxing.
Day 1: The Barbados Beach Club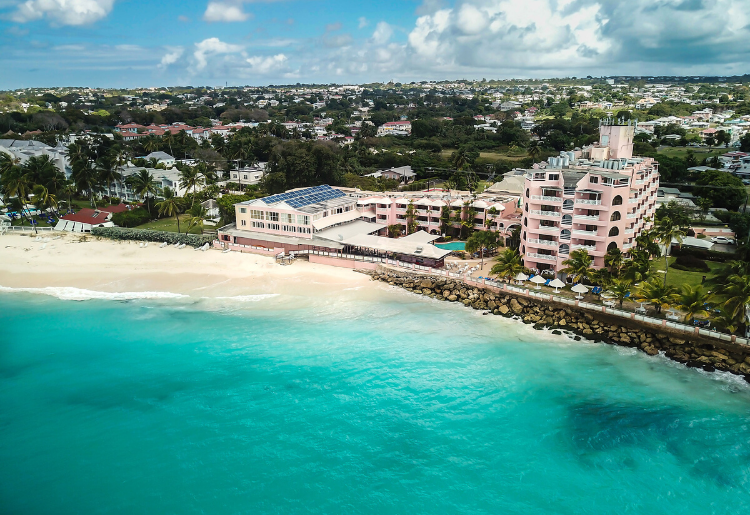 Depending on when you arrive at the Grantley Adams International Airport, you may be serenaded by a tuk-band complete with a Mother Sally and gyrating stilt men. Memories of this festive welcome will stay with as you take a short drive to the Barbados Beach Club in Maxwell, Christ Church. The resort is a 3-star, all-inclusive Caribbean budget resort located on the southern coast of Barbados.
All-Inclusive Packages
All-inclusive packages at the Barbados Beach Club include breakfast, lunch, afternoon tea, dinner and beverages; conference and banquet facilities; access to the on-site tennis court; meals at the two on-site restaurants; complimentary wi-fi internet on the property; free access to non-motorized water sports; lively entertainment several nights per week; a complimentary invitation to the weekly Managers Rum Party; and concierge services.
Accessibility
The Barbados Beach Club has shown its commitment to guests with varying abilities. The public entrance, lobby and registration desk are all ADA wheelchair accessible. Room corridors, hallways are wide enough to adequately accommodate wheelchairs and doorways are 32 inches or greater in width. Additionally, there are ADA wheelchair accessible dining areas and bars and some accessible guest bathrooms are available. There are also designated handicapped parking spots available.
Rooms
All rooms are equipped with a 32-inch flat screen television; mini fridge; individual AC; AM/FM clock radio; a private balcony with views of the ocean or the pool; shower/tub combo; hair dryer; a digital safe; and granite countertops. The deluxe room are equipped with either a Queen-sized or King-sized bed and are decorated with tasteful Caribbean décor.
When you arrive at the resort for check-in after 3:00 PM, you can spend the rest of the evening lounging poolside with a special glass of rum punch. You can either enjoy a sunset swim in the sparkling, beachfront pool or explore the blue waters of the ocean. At 6:30 p.m. you will make your way to the either the Poolside Restaurant & Bar for a casual poolside dinner; or to the Reef View Restaurant for a more formal dining experience. The Reef View Restaurant is open for dinner on Mondays, Wednesdays and Saturdays.
Day Two: Water Sports and Waves
Your first full day in Barbados is dedicated to exploring the resort's amenities, partaking in water sports activities and swimming in the ocean. Start your day with a hearty breakfast at the Poolside Restaurant & Bar. Enjoy the sounds of the ocean's waves crashing against the sand as you dine poolside. After breakfast you will take advantage of the non-motorized water toys including kayaks, paddle boats, and snorkelling equipment.
At 2.00 p.m you will have lunch at the Poolside Restaurant & Bar. In the late evening, you will transition to the onsite tennis court for a friendly game. To cool down, you can watch the sunset from the comfort of the sea. This is a unique opportunity to enjoy the diminishing rays of sun on your skin. Around 7:00 p.m. you will have dinner at either the Poolside Restaurant & Bar  or the Reef View Restaurant.
Day Three: Bridgetown and Beach Days
An early start is recommended for your second and final full day on the island. After breakfast, you will make your way to bus stop where you will take public transportation to the capital city of Bridgetown. You can spend time walking around the historic city and taking in sites such as the over 300-year-old Parliament Buildings; the Cathedral of St. Michael and All Angels; and National Heroes Square which is home to several historic statues and artifacts.
From Bridgetown, you will take a leisurely walk up Bay Street to Brown's Beach, where you will have lunch at the Boatyard. The Boatyard is in the historic Carlisle Bay, one of the best beaches in Barbados and in the Caribbean. You can choose to lounge on a beach chair or participate in complimentary water-based activities. Carlisle Bay is home to several shipwrecks which are underwater playgrounds for various marine life.
When you leave the Boatyard, you can make your way to the Fairchild Street Bus Terminal, where you will take a bus destined for Sam Lord's Castle, Oistins, Silver Sands, St. Christopher or Airport. Alternatively, you can catch a Route 11 or Route 3D route taxi or a Sam Lord's Castle bound minibus from the Constitution River Van Stand. You should make it back to the Barbados Beach Club in time for dinner.
Day Four: Homeward Bound
Even though your last day in Barbados may be bittersweet, you should take in as much of the resort and its amenities as you can. An early breakfast is suggested, so that you can spend your final few hours in the island at the beach. You will return to your room with enough time to check out at 12:00 p.m. As you take the short drive to the airport, breathe in the fresh island air as you make plans for your next trip back to Barbados.