There are several tiny islands in the Caribbean that you've probably never heard of, but they can literally take the stress out of your life. This list throws caution to the wind and dares you to think a bit differently about what you need from your Caribbean vacation.
Do you need a quiet place to unwind? Do you want to feel as though you're on an undiscovered island, but still close to modern comforts? Do you want to explore a new area of the Caribbean and go where not many people have gone before? Do you want to simply soak up the sun's rays and relax on a quiet beach?
If you can answer a resounding yes to at least one or even all of these questions, then one of these islands should be added to your list of places to visit this year. Bring a friend or ten, round up your family for a retreat or do it solo and reset your mind and body. These tiny islands in the Caribbean will fulfill your quest for a memorable vacation getaway.
1. Nevis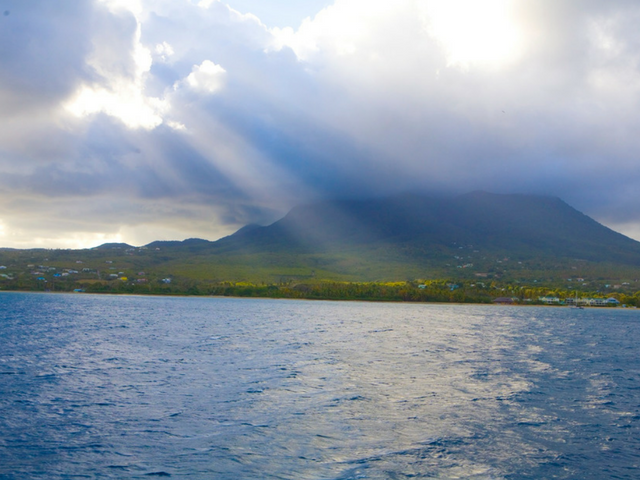 More popularly known as the sister island to St. Kitts, Nevis is fabulous enough to command attention of regional and international travellers all on its own. Just 36 square miles, the island is a favourite for tourists looking for sandy beaches, stunning offshore dive sites and historical British colonial charm.
For more information on Nevis, please visit: Nevis Naturally
2. St. Eustatius
Lovingly known as Statia, the 3,000 residents on the island will attest to how wonderful it is to live on the island. This special municipality of the Netherlands is so small that you might miss it on a world map. But, just remember that it's to the north west of St. Kitts and it's big on old fashioned hospitality.
For more information on St. Eustatius, please visit: Statia Tourism
3. Bequia
Because Bequia is so close to St. Vincent, it might be seen as just another island in the Grenadines. But, Bequia is the crème de la crème of romantic island getaway shenanigans. Don't dismiss this island, instead embrace that it's tiny, quiet and largely undiscovered by the masses.
For more information on Bequia, please visit: Bequia Tourism Association
4. Carriacou
A quick 45 minute ferry ride or 10 minute plane ride from Grenada, will take you to this island paradise. The island is quiet and often feels as though there is no reason to rush to do anything. It's the ideal island to visit when time is no object and when lazing around is at the top of your agenda.
For more information on Carriacou, please visit: Simply Carriacou
5. Saba
Saba is a big small island, that is very well known for its gorgeous mountain that hides the Mount Scenery volcano. Visitors to Saba always fall in love with the local hike, dive and dine mantra, which brings out the heart of the island, the people who live there and the people who visit.
For more information on Saba, please visit: Saba Tourism
6. St. Barthelemy
St. Barthelemy is one those few tiny islands in the Caribbean that is often regarded as the playground for the rich and famous. St. Bart's is a dreamy Dutch speaking island that more than lives up to the photos that you see on the internet. The island is located close to St. Maarten/ St. Martin, and is most famous for being home to vacation properties owned by celebrities and the wealthy.
For more information on St. Barthelemy, please visit: St. Barths Online
7. Culebra
Although it may not be as famous as its sister islands Puerto Rico and Vieques, Culebra is a gem that very few people are aware of. The island sits off the east coast of Puerto Rico and features activities such as hiking, sightseeing and kayaking. This charming island offers the right mix of food, culture and experiences that are typical of the more familiar Puerto Rican charm.
For more information on Culebra, please visit: Culebra Puerto Rico
These tiny islands in the Caribbean, have much more to offer than sea, sand and sun. You'll be visiting places where people are friendly, the atmosphere is relaxed and, best of all, you're surrounded by clean and healthy seas. So take your time and sample some local dishes, partake in local activities and soak up the culture that makes each island unique.