Imagining yourself in Guyana, is the beginning of your introduction to the diversity in South America. The country is an ecological retreat that understands and respects its natural resources. Birdwatchers and eco-tourists who travel specifically for true environmental experiences will find that Guyana is the destination they have been looking for. It's enough to just visit the country and do your own thing, but it will be even more rewarding if you take advantage of the many Guyana birding and nature tours.
Guyana Birding and Nature Tours
If you are checking off your birding bucket list or visiting Guyana for the first time, there is a tour for you. When you experience the birds and nature in Guyana, there will be an urge to return. The tours that are noted below include options such as lodgings, destinations, landscapes, birds and animals.
Birding in Guyana and Suriname Tour (Wilderness Explorers Guyana)
The Guyana Wilderness Explorers Guyana and Suriname Birding Tour is a beautiful experience that explores the Guyana Shield. The shield, which is a Precambrian geological formation on the northeast of South America is a haven for birds and nature.
The 14-day tour takes guests to a number of places of interest in Guyana and Suriname. In Guyana, highlights are the Kaieteur Falls, Amerindian and Maroon communities, the Rupununi River and Surama Mountain.
In Suriname, guests will explore Danpaati, Atjoni, the Commewijne district, the Suriname River and Peperpot. All of these areas are habitats for hundreds of bird species. In Guyana, keep your binoculars and scopes trained for Kaieteur swifts, Makonaima birds, Crimson Fruitcrows, and Black Curassows.
Contact: Blue Sky Wildlife
Price: Starts at USD 7,375
Group Size: 12 passengers
Best Time: N/A
Duration: 13 Days
The tour package price includes:
Airport transfers
Double or twin accommodation
Meals as listed
Limited local bar at Karanambu Lodge
All road and river transfers
Internal flights in Guyana
Tour activities as described
Local guides
VAT
Iwokrama Forest User Fee
Iwokrama Canopy Walkway fee
8 Day Guyana Tour (Leon Moore Nature Experience)
The 8 Day Guyana Tour offered by Leon Moore Nature Experience is aimed at birders who want to learn about the animals and birds in Guyana in great detail.
The tour explores the best of Guyana's birding habitats which include beaches, mangrove forests, and rainforests. In 9 days, birdwatchers will visit sites such as the Mahaica River, the Atta Rainforest, Amerindian villages such as Fairview and Surama, Iwokrama Forest, Iwokrama Canopy Walkway, Caiman House Field Station, and the Botanical Gardens.
This tour gives birders the opportunity to see a variety of birds including parakeets, macaws, motmots, antbirds, owls and potoos. Birders will be amazed at the number of birds they will be able to check off their list. In addition to birds, there may be sightings of native animals such as big cats, monkeys, sloths, anteaters, fish, amphibians and reptiles.
Contact: Leon Moore Nature Experience
Price: Starts at USD 2,512
Group Size: 2 – 4 guests
Best Time: N/A
Duration: 8 Days
The tour package price includes:
Meals and water
All lodging during the tour
Tour activities as described
Ground transportation
National park entrance fees
Guyana Birding Tour: Neotropical Wilderness Birding (Eagle Eye Tours)
13 days in a country of untouched rainforests, rivers, waterfalls and savannas is an ideal way to spend your vacation birdwatching in Guyana. The Guyana Birding Tour: Neotropical Wilderness Birding by Eagle Eye Tours takes birders through all of these habitats on a quest to spot a few of the country's 850 birds.
The itinerary was carefully designed in order to visit the largest birding habitats in Guyana. Points include the Botanical Gardens, Kaieteur Falls, Iwokrama Rainforest Reserve, Atta Rainforest, Surama, Rupununi, Karasabai and the Ireng River.
Throughout the birding tour in Guyana, guests should be ready with their cameras. There are many opportunities to spot regulars such as eagles, parrots, macaws, mockingbirds, tanagers, jacamars, vultures and kites. If the timing is right, you may see the highly endangered sun parakeet and scarce endemics such as the Rio Branco antbird and Hoary-throated spinetail.
Contact: Eagle Eye Tours
Price: USD 7,375
Group Size: 8 guests
Best Time: N/A
Duration: 13 days
The tour package price includes:
All accommodation (simple to modern, but all comfortable)
All meals
Two in-country flights
Ground transportation and boat trips
4 – 8 participants with our Eagle-Eye Tours guide plus local guides
All park, conservation and entrance fees
Gratuities
For more information on Guyana birding and nature tours, please visit the official tourism website of the Guyana Tourism Authority.
Image: Guyana Tourism Authority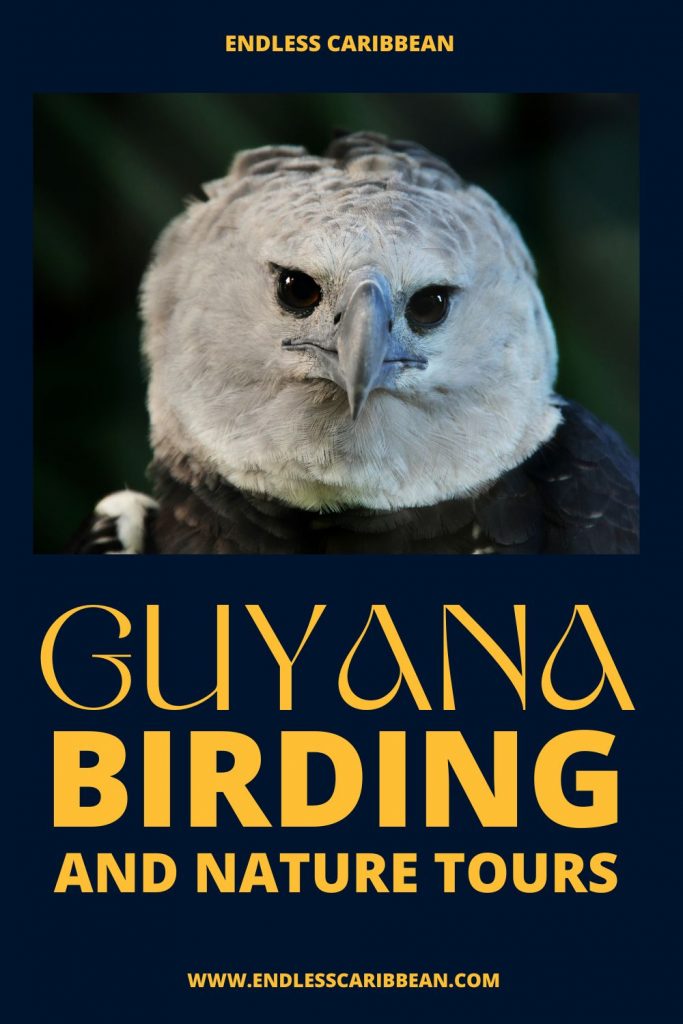 Related Posts