If you're a seafood lover going on a budget vacation to Dominica, the stunning nature isle of the Caribbean, then you will have to find the freshest fish and shellfish for your meals. There are several places where you can find fresh fish for dinner in Dominica so that you can create a tasty meal in the comfort of your hotel.
Seafood should be purchased on the day that you want to cook them to guarantee freshness. You can visit local fish markets for try your hand at catching them yourself. Popular catches on the island include fish, lobster, crab and crayfish.
Fresh Fish For Dinner in Dominica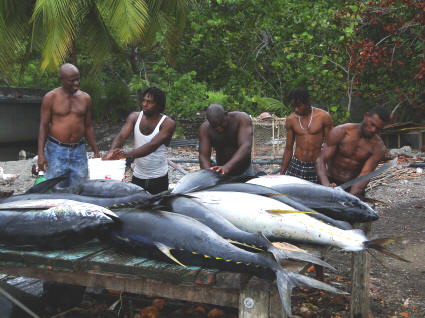 Finding fresh for dinner in Dominica, can be as easy as finding a fish market, licensed street side fish vendor or taking the plunge and catching the fish yourself.
New Market
New Market is located in capital Roseau, along the waterfront exactly where the Caribbean Sea meets the Roseau River. It is a typical Caribbean market that is filled with stalls of large, locally grown produce. There you will find fresh fruit, vegetables, seasonings and spices and meat. The fish market is located on the western side of New Market.  The liveliest day is Saturday, which is traditionally a market and shopping day. Fish can be bought everyday of the week except on Sundays.
Pointe Michel
Point Michel is a fishing and farming community located on the south of Dominica. This historically rich village lies on a volcanic debris that was formed from the the eruption of the Morne Plat Pay volcano.
Sport Fishing
Sport Fishing in Dominica includes deep sea fishing and fly fishing. Although it is not as popular with locals as it is with tourists, deep sea fishing is very popular because of the topography of the sea bed. There are steep drop offs located relatively close to the shoreline. If you want to try your hand at catching fresh fish for dinner, you should consider booking a charter fishing excursion with an experienced team.
Types of Fish in Dominica
You can find a wide variety of fresh fish for dinner in Dominica. There are saltwater and freshwater fish which can be steamed, fried or grilled and paired with a delicious selection of Dominican vegetables.
Saltwater Fish
Historically, saltwater fish are the preferred fish in the Caribbean because of low levels of pollution in the sea. The most popular fish that can be caught in the open water include barracuda, tarpon, dorado and blue marlin. Some catches may also include snapper, grouper, sailfish, tuna, wahoo and mackarel.
The barracuda is a slender fish which is often regarded as an aggressive species. Barracuda have extremely large mouths and protruding jaws with large, menacing teeth. Smaller species of barracuda swim in schools, but the larger species are solitary and swim alone.
The tarpon is a large game fish has a distinctive dorsal fin and an upward pointing mouth. It is a favourite game fish of many fishermen because it can put up a huge fight when hooked. The fish is known to jump out of the water and twist aggressively and frequently to free itself.
Also known as dolphin or mahi-mahi, the dorado is a beautiful fish that is popular in Caribbean waters. The fish can be spotted because of its colourful with scales that are golden, blue and green hues. The dorado has a large head and a defining fin that runs down from the head to the tail.
The blue marlin is a large bill-fish that is known for its swimming speed, power and stamina. It is recognisable because of its upper jaw which forms a long bill. The fish can also be identified by its dorsal fins of which the first one is high and slows downward along the back of the fish.
Freshwater Fish
Dominica has several rivers and streams which are teeming with fish and shellfish. Catching crayfish can be dangerous, so it's best left to skilled fishermen. Crayfish hide in between rocks, logs and hard to reach crevices and smart tartics are usually needed to get them from their hiding places.
Popular Dominican Fish Recipes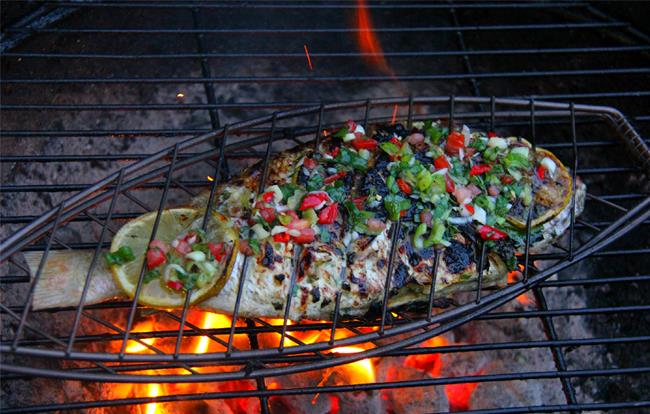 Cooking in the Caribbean can be different to what you're used to at home, especially if you do not have any familial roots from the region. Caribbean food is flavourful, well seasoned and uses natural herbs and spices to enhance the main ingredients.
Here are a few recipes that you can try using fish that you've purchased or caught in Dominica:
Coconut Grouper: This recipe uses fresh grouper, coconut milk and seasonings such as garlic, onion, cilantro and celery.
Fish Soup: Choose any fish of your choice and pair it with christophenes (chayote squash), pumpkin and carrots for a rich and hearty soup.
Caribbean Herb Grilled Fish: Pair snapper with ginger, parsley, thyme, scallions and lemon to create a fragrant grilled dish.
Caribbean Style Crabs: This recipe combines crab meat with curry powder, green chilies, coriander leaves sauteed in butter and baked in clam shells.
Whatever type of fish you decide to get, ask the vendors or fishermen for some recommendations and advice.
Planning a vacation on a budget is easy. Check out how to plan a budget friendly trip to Curacao.
Follow Endless Caribbean on Twitter, and receive daily insider tips about the Caribbean.