Welcome to the Cayman Islands Travel Guide. Find helpful travel tips about this trio of tropical islands located in the west of the Caribbean. Read about airlines and ocean vessels that service the Cayman Islands, entry and visa requirements, accommodation and transportation, tourism specialties, customs and immigration regulations, transportation and general tips about the island.
To find more information about travelling to the Cayman Islands, visit the official tourism website of the Cayman Islands Department of Tourism.
Travelling to the Cayman Islands
Visitors travelling to the Cayman Islands can get to there by air or sea. If connecting by air, please note that the islands are one hour flying time from Miami.
Airlines That Fly to the Cayman Islands
The Cayman Islands received regular flight services from the major hubs in the United States and the United Kingdom. Airlines that visit the Cayman Islands regularly are: American Canada, American Airlines, British Airways, Cayman Airways, Cayman Airways Express, Delta Air Lines, Island Air, JetBlue Airways, Southwest Airlines, United Airlines and WestJet.
Airports
There are several airports throughout the islands. There are three airports in the Cayman Islands. They are the Owen Roberts International Airport in Grand Cayman; the Charles Kirkconnell International Airport in Cayman Brac and the Edward Bodden Airfield in Little Cayman. The Owen Roberts International Airport is the main international airport for the Cayman Islands and is located in George Town, Grand Cayman. The main airport can accommodate all types of aircraft.
Ocean Vessels That Sail to the Cayman Islands
There are several vessels that sail to the Cayman Islands for business and leisure purposes.
Cargo Ships
Several Cargo ships visit Cayman Islands on regular schedules. These ships originate in the United States, Puerto Rico, Colombia, Jamaica, Nicaragua, Panama, Japan, Cuba, United Kingdom, Bahamas, Germany and the Dominican Republic.
Cruise Ships
The Cayman Islands is a popular cruise port and cruise destination in the Caribbean. Cruise companies that visit the island are Carnival Cruise Line, Disney, Costa Crocier, Oceania Cruises, Celebrity Cruises, Holland America Line, MSC Cruises Cruise Management UK Limited, Pullmantur Cruises Ship Management, Royal Caribbean Cruises, Norwegian Cruise Line, AIDA Cruises, Princess Cruises and Thomson.
Seaports
There is one main port in George Town, which has three cruise terminals.
Cayman Islands Entry/Visa Requirements
Before you travel to the Cayman Islands, there are a few entry and visa requirements to note.
Passports
All visitors (except Canadian citizens) to the Cayman Islands must possess a valid passport with at least six months before expiration. Canadian citizens can enter the country without passports, but they must present proof of citizenship. Proof of citizenship includes an original birth certificate or notarized copies of the birth certificate.
Visas
Nationals of specific countries require a visa to enter the Cayman Islands. Please check the Cayman Islands' Department of Immigration website to see if your country of nationality or residence is on the list.
Entry Conditions
Visitors must possess a return ticket or an official document that explains the reason for an extended stay, confirmation of accommodation and evidence of their ability to support themselves whilst on the island.
Cayman Islands Customs and Immigration Regulations
All visitors to the Cayman Islands must clear Customs and Immigration at the ports of entry to gain legal entry to the country. On arrival in the island, visitors are given an immigration card which must be returned on departure.
Accommodation in the Cayman Islands
The Cayman Islands has an exciting mix of accommodation that will suit any budget. Throughout the three islands there are resorts, small hotels, villas, guest houses, inns, condominiums and apartments. Some hotels offer hurricane guarantees. You are advised to reserve your room at your choice of accommodation well in advance of your travel date.
Transportation in the Cayman Islands
There is an extensive transportation network in the Cayman Islands. Taxis are available at all ports of entry and some hotels and resorts. Car rentals may be arranged, but visitors require a temporary driver's license. To rent a car in the Cayman Islands, you must be 21 years of age.  The bus service in Grand Cayman commences at 6 in the morning and accept both Cayman Islands and United States dollars.
Things to Do in the Cayman Islands
The Cayman Islands are renowned for their sunny weather and fabulous beaches, however the islands have developed specialties in new areas such as: bird watching, culture/ heritage, cycling, diving, festivals, fishing, golf, health, wellness and spa, business (meetings, conferences etc.), soft adventures, sports, weddings and honeymoons and wildlife tourism.
Weather in the Cayman Islands
The average temperature ranges between 25 and 30 degrees Celcius (77- 85 degrees Fahrenheit). The hurricane season is June 1st to November 30th. Annual rainfall averages 55 inches per year.
General Tips About the Cayman Islands
Language: English
Government: British Overseas Territory
Capital City: George Town
Area Code: 345
Size: 102 square miles (in total)
Population: 57,000
Location: North- Western Caribbean
Electricity: 110 – 120 Volts AC
Currency: Cayman Islands Dollar, but the US dollar is widely accepted.
Legal Drinking Age: 18
Closest Islands: Cuba and Jamaica
Driving: Left side of the road
Dress Code: Casual
Beaches: All beaches are public to the high water mark
Add the Cayman Islands Travel Guide to your bookmarks. This page receives updates periodically.
If you have found our Cayman Islands Travel Guide helpful, please let us know on Facebook, Twitter or Instagram. If you know someone who is interested in visiting the Cayman Islands, send them a link to our Cayman Islands Travel Guide and tell them about our website.
Not interested in the Cayman Islands? Take a look at our Bermuda and Belize travel guides and choose a Caribbean destination that is right for you.
Image: Cayman Islands Department of Tourism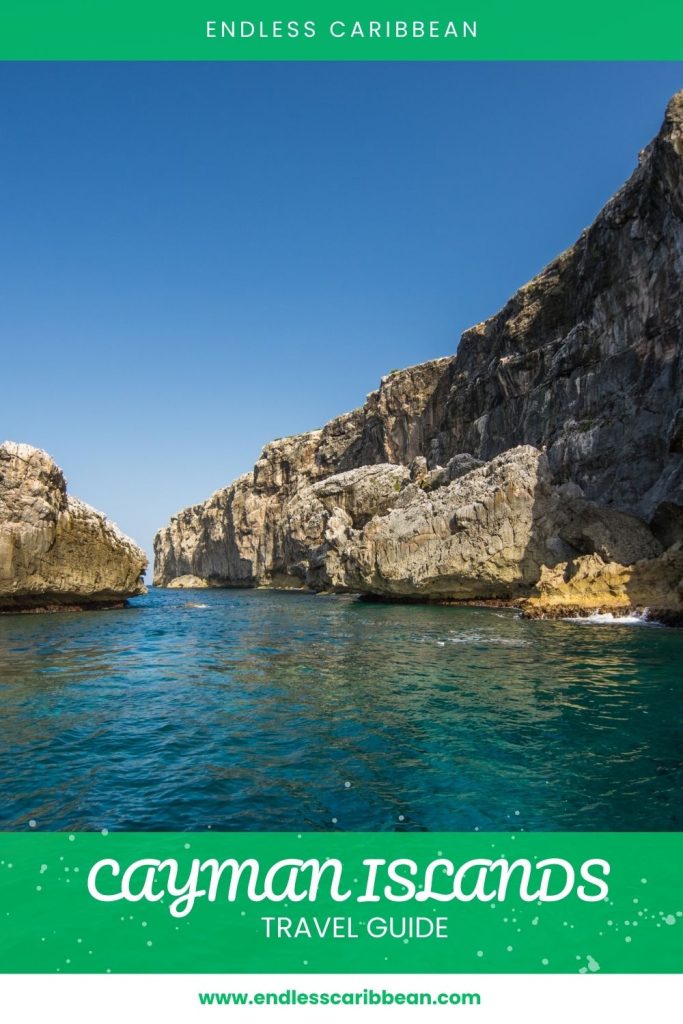 Related Posts